Top-rate freestanding dishwasher that's ahead of the class in washing and drying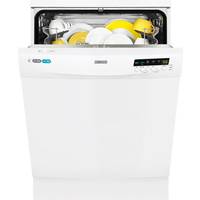 Zanussi has hit another "home run". If you're looking in the UK for a first-class freestanding dishwasher that cleans and dries with the best of them, and features lots of great labour-saving technology – then the ZDF26011WA should have your name on it.
With capacity for 130 items (or 13 place settings), this delectable dishwasher has a variety of different settings and features, all of which combine to make your life as easy as possible while keeping the electricity bill down. The ZDF26011WA is 60cm wide, has nice responsive push buttons and a clear digital display with timer. You've got five handy programmes from a 30-minute quick wash if you're in a hurry, to an intensive 70oC blast to shift harder to remove crusts. If you're unsure which setting to choose you can opt for an auto programme that cleverly detects how many dishes and how much dirt there is in the load, and determines how much water and force is required.
There are also height-adjustable baskets and a 24-hour delay function so you can set your cycle to start at night to benefit from lower energy tariffs. In addition there's an auto switch-off feature whereby as soon as the cycle is over the dishwasher powers down – saving you money and giving you peace of mind.
The actual cleaning and drying properties are top notch. Your dishes and cutlery should be returned spotless and dry as a bone, ready to fling straight into a cupboard. There are no discernible watermarks and overall you'd have to say the Zanussi ZDF26011WA is an all-round gem. Finally, there'll be a small of amount of whirling and swirling but this machine is remarkably quiet. And with its A ++ energy rating you'll struggle to spend more than a pound a week on your energy bill - even with daily use.
What's hot:
Superb cleaning and drying
A ++ Energy Rating
Pretty quiet
What's not:
Tall glasses struggle to stay upright
Rack design could be better
Some of the cycles are really quite long
Why you should buy it: Cost efficient and highly effective at its primary tasks – cleaning and drying – the Zanussi ZDF26011WA is a great little unit and comes highly recommended.